Be transformed into the image of Christ.
In 2006 a group of friends got together and went to Pretoria City Central to merely  feed the homeless people sleeping on the sidewalks. We were delighted by their warm welcome, but also saddened by their plea for more food.
Approximately a year passed before we returned to the streets and witnessed the exact same scenario. God then stirred a passion in our hearts for the homeless people and we initiated a "Feed the homeless" project. The desire to assist the homeless and invest in their lives beyond just feeding them emerged.
This desire ultimately gave birth to Kingdom Culture, a non-profit company (NPC 2014/159950/08). Kingdom Culture's main base of operations is situated in Pretoria Central, South Africa. Established projects functioning within Kingdom Culture include Feet on the Street (previously Feed the Homeless) and Street Church to mention a few.
Throughout the years many people volunteered and assisted in the outreaches and have been personally changed and impacted by what they saw and experienced.
We acknowledge that we do not possess all the necessary skills and resources to meet everyone's different needs, and we therefore recognise the importance of networking with other ministries and churches, all working towards the same goal which includes helping people in need and sharing the Gospel.
VISION
To empower, feed, clothe, train and develop the under-privileged people in Pretoria – and ultimately South Africa – by utilising a Christ centred approach through the assistance of volunteers.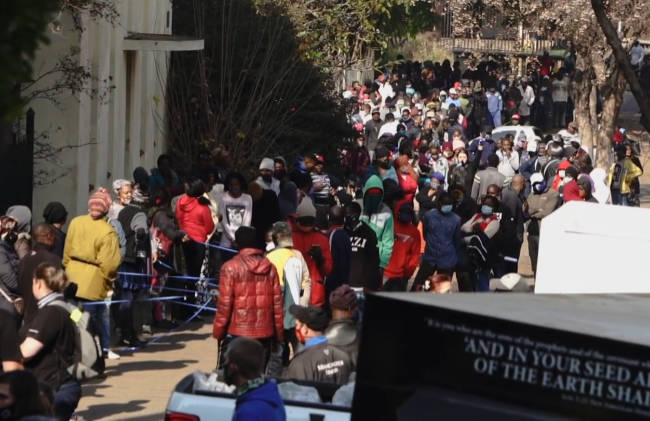 MISSION STATEMENT
⦁ To serve the community through a non-denominational and non-discriminatory service to all races, ages & genders, regardless of their circumstances.
⦁ To uplift the destitute community with the assistance of volunteers.
⦁ To maintain our non-profit status, thus relying on sponsorships and people volunteering their skills and time.
⦁ To work towards providing food, clothing, skills training and personal development to the communities we serve by networking with Kingdom Culture partners.
⦁ Ultimately, and with due cognisance of the above, our aim is to positively contribute towards making a real difference in the lives of individuals and the community
HOW WE WORK
We don't have an "us and them" mentality when we reach out. We recognise that all people are loved by God and have the same precious value and worth regardless of what they do, where they live/sleep, and what they have/own.
We get involved on a personal level from the start, engaging in normal conversations and asking about their skills, family, health and daily lives, just as one would get to know anyone else at a braai, social gathering or church. We develop real relationships, know each others' names and they also start asking about our lives and – eventually – about God as well. By showing that we truly care, they begin to care for us as well.
Trust is earned, but it is much more difficult to earn trust from someone that has been "cast out by so called society". By being consistent with our love and approach, listening to and remembering their names and their stories, we start to earn their trust,  build meaningful relationships and make a positive difference in their lives.
WHO WE SERVE
Interestingly, we found that more than 80% of the people we with engage on a regular basis ,started living on the street by their own preference,  in order to better take care of their families. They typically come from rural areas where they were unable to find jobs, so they came to the city to find work and then take money back to their families, or send it home when they are able to do so. They wilfully choose to sleep on sidewalks in order to save as much as possible, and often also don't eat for days for the very same reason.
For some the only way to survive the cold nights and harsh circumstances is to resort to using drugs or alcohol. A very large percentage of the people we work with are highly addicted to Nyaope (a mixture of low grade heroin, cannabis products, antiretroviral drugs and other materials added as bulking agents), Heroin and Rocks. Often the only time they eat is when they are given food by their employers or compassionate people. All the food and blankets we provide are from donations received.
We have discovered that most of our friends on the streets have heard much about God, but have never had a personal relationship with God.
When we pray with them and they truly have an encounter with God, they start to accept the goodness of God and allow Him to transform their lives, step by step. They regain self-respect and start behaving differently.  Like being on time for work, being more diligent – and thus many of them have been able to find permanent employment. In our initial outreach in Steve Biko Road, Gezina, it came to a point where many of the people that we were meeting with eventually moved on because they found employment and we actually had to find a new location to reach out to. We have since moved to various different locations in the Pretoria CBD and started building relationships and feeding people there.
We trust for these new places to be emptied out like in Steve Biko Road and will continue to build relationships and love on the destitute in our city.