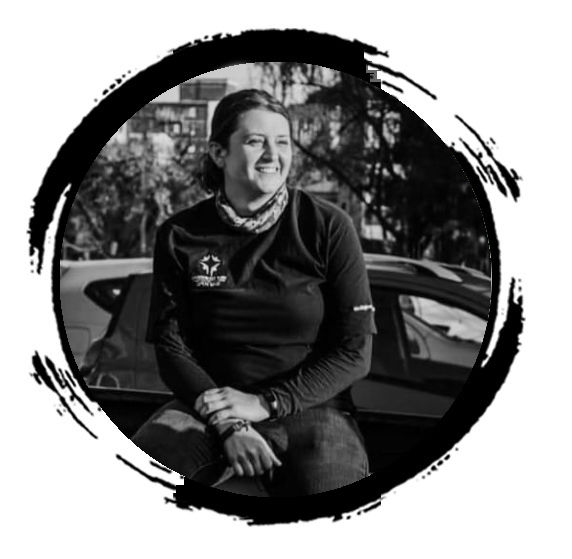 Fulltime Missionaries
Xenia Swannepoel
For most of my life I grew up in a very conservative environment however I had my first real encounter with Jesus at the age of seventeen on the 10th of October 2000. This kickstarted a journey of healing and discovering God in a real and tangible way causing me to seek identity in Him as a daughter of the most high God.
While I was reading through the book of Acts, I was confronted with the raw power of God that was displayed by the apostles of that time and with my limited knowledge I realised if God's word is true when He said; "Jesus Christ is the same yesterday and today and forever" (Hebrews 13:8), then that same Holy Spirit power is available to us today. This caused me to cry out to God to be part of the Acts generation and to see His power being manifested.
For months God spoke to me to gather my friends and feed the homeless in Pretoria Central Business District however I was fearful because of the stigma of crime and violence in the area. When I eventually obeyed we had a bag full of sandwiches and a getaway car for the first outreach. Needless to say, we just gave out the sandwiches and sped off in the getaway car however from that moment we grew in revelation, loving people and actually engaging in conversation and prayer.
When I look back over the years I am astounded that God chose to trust me to love the most broken and forgotten people in society and also allowing me to grow in loving Him. I am truly overwhelmed by the quality people that God allowed to walk alongside me and I am impressed by their love and pursuit of Him. Their humble walk with God makes me want to draw closer to Him. With people like this we don't need a big ministry because the authority they carry makes a bigger impact in the areas that we minister in.
I always believed that I was called for business and ministry however as my relationship grew with God, I can see how He prepared me through the business world to rely on Him as my sole Provider as causing me to enter the position of full time missionary.
It has always been the greatest privilege to say "yes" to what God asks of me and keep on responding in obedience. Sometimes it comes at a great personal cost to lay down your life and follow Him knowing that He is my portion and reward.
I am excited to see what God will unfold in and through the ministry in the future and I am thankful to be part of the move of the Spirit of God.
Pieter Smit
When I was still very young, I was fortunate to be introduced to the understanding that we were created for a purpose, my mother had a key role in this leading me to accept Jesus when I was 5 years old. As a 12 year old boy, tannie Lizette van Dyk taught us in children's church at Lewende Woord Brummeria about what ministry is and helped us hear from Holy Spirit ourselves what God's heart is for us. I saw 2 pictures, and both illustrated me preaching, not in a church, but outside and not to people occupying high positions, but people in the villages.
God's purpose burnt in my heart. Like many people wanted to become police men, firefighters, doctors and nurses, I wanted to do the work of God, and it was not something many people understood. It's been 19 years since I was introduced to my calling, and in the time that passed, I had to walk on roads that was everything but the work of God I expected. God's call comes with a price, and I had to realize in years passed that the price is a life laid down for Jesus.
We as a family know that we are set aside, our lives look different and everything we do, we do it according to what we see in God's word and we walk by the leading of Holy Spirit. We raise our kids knowing that we are only stewards of their lives on earth, because they belong to God.
Since the start of lockdown end March, God shifted something in our lives. Overnight our business stopped and we were faced with questions, but it didn't take us long to realize that even though our business stopped, God was busy with something. We immediately got our minds aligned with Christ. We tried to make plans to earn income, but nothing worked out. We wanted to sell vouchers which would definitely have worked, but we just felt God wanted us to trust Him. He changed everything back to trusting Him, and He never let us down one bit. In amazing ways He just provided in all our needs! Suddenly what I have hoped and prayed for, for a very long time, God started. Ministry activities started picking up, and after some weeks, on the day of Pentecost Xenia asked about my role in Kingdom Culture. We prayed about it, left it aside for almost 2 weeks, and then God showed me His heart. We cannot move without knowing what the heart of God is.
My wife Ulandi and I got married 15 November 2014. Our firstborn Lanje was born 22 December 2017 and our second born Lente 4 March 2020. We had to grow as a family coming from different backgrounds, creating a new culture in our home and truly becoming one in our walk. As a family, we believe in unity and I always asked God that my family never feel neglected, abandoned or rejected because of ministry, and it was only now that we were ready to walk into what God has for us, together!
Why Kingdom Culture? Xenia and Dian are very dear friends of ours for almost 10 years, and with all the ministries that I have walked with before, it is their way of reaching the lost and most rejected from society that resonated with my heart. Everything we ever went through prepared us for this time. The unity we experience with Kingdom Culture is awesome, because the things that burn in our hearts, we can express in Kingdom Culture, it comes naturally, nothing is forced. A very important aspect of our decision was also the way my family felt safe with the leadership and volunteers of Kingdom Culture. It is critical that my family feel so safe that they stand up in God's call without fear, and that is what I've seen. Ulandi is very sensitive and I can trust her spirit, and the way she opens her heart amongst the Kingdom Culture family, is both beautiful and empowering.
We would like to thank you for receiving us in such grace and love, and for accepting us in this beautiful family. Thank you to every volunteer and Kingdom Culture leadership, we feel very welcome and we are looking forward to walking this road with you. We pray for you and with you, we are excited to see what God is going to do! May His grace be with you forever.
Love from us,
Pieter, Ulandi, Lanje & Lente Smit.